Hello everyone, Wednesday seems to roll around really quickly these days, and well as we know Wednesday is the middle of the week which is hump day, it is also the start of the new challenge over at…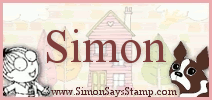 These challenges give you so much scope to try new and different things and I do hope that you will all jump on over there to check out this weeks challenge and to see the DT's work, all you need to do is click the blinkie below…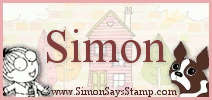 The DT this week were to use Magnolia stamps and as you have known from previous posts I am not totally sold on these images quite yet, but I found this image was kinda cute, maybe because she is standing on her side..anyways I am here giving them another go…
My card for this week was pretty straight forward with lots of stamping of the Sparkling Bubbles in the background and running a stitching line around the edge to stamping and colouring the image in and trimming out. Adding Diamond Dust to her wings, along with a sentiment at the bottom of the card and some Diamond Stickles to the background, finally adhering her to the card to complete.
I must say that I certainly still need lots more practice with my Copics, especially dresses and hair that have folds, but they do say practice makes perfect…we will see…
I do hope you will all find a little time to enter…don't you think it would be smashing to be able to spend $50 in the Simon Says Store…..
Okay it is now time for me to depart, I will be back here tomorrow to announce the winner of the Holiday Card Boot Camp…
Hugs